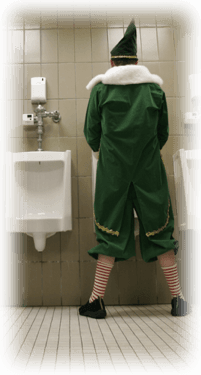 November 2012
by David Sedaris, adapted by Joe Mantello
directed by Jeremy Wechsler
starring Mitchell J Fain
Our holiday classic returns for its ninth straight year, once again starring Mitchell Fain who plays to rave reviews and sold out houses every year. Don't miss this beloved antidote to Christmas cheer. A celebration of the desperation of unemployment, the insanity of Christmas shopping and the ineffable "cheer" of the holiday spirit.
February 23-March 31, 2012
The North Plan
by Jason Wells
directed by Kimberly Senior
What would ordinary, small-town Americans do if the U.S. government fell into tyranny? Quentin Tarantino meets All the President's Men in Jason Wells' The North Plan. In a not-too-distant future, a federal bureaucrat has been wrongly imprisoned in a rural Missouri jailhouse, desperate to escape so he can thwart an unspecified constitutional crisis.
Part political drama, part dark satire, Theater Wit is excited to debut the first professional Chicago production of Wells' apocalyptic tale, helmed by acclaimed director Kimberly Senior.
★ ★ ★ Funny, smart 'North Plan' will keep you on edge Chicago Tribune
★ ★ ★½ Funny scary and believable. The audience literally jumped to their feet cheering.Chicago Theatre Beat
Highly recommended. An adventure in political conspiracy and dark humorGapers Block
★★★ Sweet, Affecting and Darkly Comic. Just Terrific! Chicago Tribune
★★★★ Rosenstock's endearing comedy is served up by an appealing, ideal cast.Time Out Chicago
★★★ 1/2 A bona-fide gift to every audience who sees it. Hilarious and enthralling. Chicago Theatre Beat
Perfect! Absurdly funny! I see my twenties among the train wreckage.Chicago Now
April 24-May 27, 2012
Tigers Be Still
by Kim Rosenstock
directed by Jeremy Wechsler
A tiger has broken loose from the local zoo, but Sherry has bigger problems. She's a recent college graduate with a master's degree in art therapy. But like so many 20-somethings who find themselves back at home, here she sits, unemployed, overwhelmed and dealing with her depressed family. Happily, things begin to brighten up when she gets hired as a high school art teacher. Now if only the principal would leave his rifle at home, her sister would get off the couch, her mother would come downstairs, her first patient would just do one of his art therapy assignments, and someone would catch the damned tiger, everything would be perfect. A Chicago premiere by Kim Rosenstock, Tigers Be Still is a deft and heartfelt comedy about how depression can pounce on us all, and how the path out is always the least expected. "Piercing, ferocious and devastating. Hilarious." — Charles Isherwood, The New York Times