August 20, 2013
Mythical Proportions
written and performed by Nora Dunn
produced by Steven Ullman
Emerging from the memories of an 87-year-old Hollywood doyenne who discovered the greatest stars of the 50's, to the musings of a seven year old girl mystified by the small world of Mr. Rogers and the lives of prisoners in a TV series called Lockdown, Mythical Proportions combines characters across the country with Ms. Dunn's own stories from her childhood in inner city Chicago. Join us on an American stage that stretches from tales of narcolepsy at cocktail parties to a middle-aged bookkeeper whose trip from a dreary town in Northern England to the sunny coast of California ends in tragedy, and to Mrs. Williams, a 68-year-old African American woman who relates a family history tainted by racism but driven by love.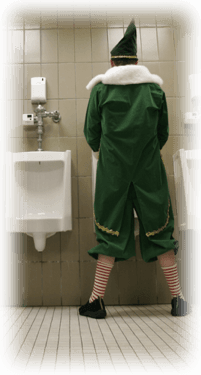 November 2013
The Santaland Diaries
by David Sedaris
adapted by Joe Mantello
starring Mitchell J Fain
Our holiday classic returns for its tenth straight year, once again starring Mitchell Fain who plays to rave reviews and sold out houses every year. Don't miss this beloved antidote to Christmas cheer. A celebration of the desperation of unemployment, the insanity of Christmas shopping and the ineffable "cheer" of the holiday spirit. This production sells out every year, so make your reservations soon.
Hilarious and profound! The smartest, funniest, most poignant play to arrive on a Chicago stage in a very long time. The best play of the season! Hedy Weiss, Chicago Sun Times
Very quirky, very brilliant and very poignant.Chicago Tonight (WTTW)
RECOMMENDED. Both moving and bone-dry funny.Chris Jones, Chicago Tribune
March 2013
Seven Homeless Mammoths Wander New England
by Madeleine George
directed by Jeremy Wechsler
Deen Wreen is having a difficult week. Her campus renovations are meeting stiff resistance from the town and her ex has returned to live with her. This complicates her relationship with Andromeda, her new (and much younger) girlfriend. An examination of the relationships we build, the choices we make and how we say goodbye, Artistic Director Jeremy Wechsler, returns to the world of love and academia after last season's hit, Completeness. Museums, romance, politics and yes, seven enormous mammoths collide in in this academic sex comedy by one of America's most fun and original new voices.